Louis J. Setti International Intern
Ana Sumbo '22
Challenging Heights
Ghana
ana_sumbo.jpg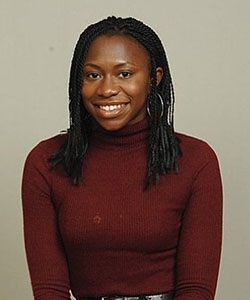 Ana Sumbo is a geography major from Cabinda, Angola. Outside of academics, she is involved in the planning and leadership of Dartmouth African Students Association (DASA) and Soyeya African Dance Troupe. She also works for the Office of Pluralism and Leadership as a Black Student Coordinator and is a part of the Abolish Incarceration and Detention Everywhere (AIDE) collective that organizes around prison abolition and the political education of incarcerated folks.
During the summer of 2019, Ana worked as an intern for a non-government organization in Ghana, Challenging Heights, dedicated to the elimination of child-exploitation and rehabilitation of former enslaved children through an education centered approach.  During her time there, she had the privilege of delving into different aspects of the organization's work through her involvement with the Challenging Heights school as well as her contribution to the changing monitoring and evaluation strategy that the organization was implementing. Her work at the school mainly involved helping to go through school lessons with the children and helping them with any work they needed. Ana spent most of her time, however, helping the organization develop a plan and implement strategies that would help improve not only the monitoring process of children in rehabilitation, but also give donors direct access to up-date beneficiary information that they could use to help the organization.
In addition to working with and learning from Ghanaians in the non-profit sector, Ana enjoyed immersing herself in Ghanaian culture by taking Fante lessons (the local language), participating in traditional drumming and dance lessons, as well as learning to cook amazing Ghanaian dishes. Overall, her internship allowed her to participate in an exchange of knowledge and engage in non-profit work that non-exploitative and ethical.